|
PentecostalTheology.com
Together, we can change America.
An individual who prays and humbles himself before God can change the course of a nation. Your prayers are so important and together we can make an eternal difference. It is time to wake up and recognize the power God has placed in our hands, and give our all to the purposes of God.
Pray today to receive these free prayer resources and mark your city on the map!
As the United States heads into yet another contentious election year, one of the nation's most popular Bible publishers is trying to help Americans pray more efficiently and in a non-partisan manner for the needs of the country.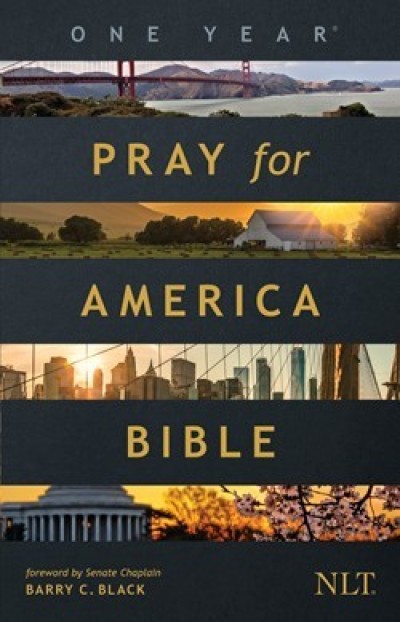 Tyndale House Publishers has continued its successful One Year Bible series with the recently released special edition, One Year Pray for America Bible.
The One Year Bible series, of which 3 million copies have sold over the last three decades, breaks down Scripture into 365 daily readings to help readers read the entire Bible in one year.
"Our team back in the spring was really aware of the kind of tension and conflict our country was experiencing for some time," Tyndale House Bible Brand Director Dave Thornton told The Christian Post.
PRAYERS FOR AMERICA TO BRING OUR NATION BACK TO GOD
Lord, help me to strip me of my rebellious spirit.
Rebellion is one of the causes of America's issues. Rebellion makes us question and refuses to submit to the authorities above us (including God). We want God to be at the heart of America but we don't want to do the hard acts of loving the unlovable, caring for those we don't feel deserve it and tear others down instead of uniting in our common bond of wanting to be more like Jesus. If we can change our heart attitudes from rebellion to submission, God will heal our land. Pray this:
Lord, strip me of my rebellion. Replace my rebellious heart with one that yields to your way of life in surrender. Amen.
Lord, help us to be humble.
I Chronicles 7:14 says, "if my people, who are called by my name, will humble themselves and pray and seek my face and turn from their wicked ways, then I will hear from heaven, and I will forgive their sin and will heal their land." It's important to pray, but according to this verse, it is equally as important to be humble. Humility means letting go of the principles and opinions that keep you from loving and forgiving people around you. Pray this:
Lord, humble me. Help me to see that I'm not always right and the world doesn't revolve around me. Allow me to do what needs to be done to rid myself of my pride so with a contrite heart I can seek your face. Amen.
MAY 30, 2020 | KRIS KUBAL, IFA STAFF
Father, direct us. We pray for discernment and stamina in our prayer for our nation. Show us how we can pray with our eyes open. We need you, Lord.
• Pray that God will turn people's hearts toward Himself, and that He will be glorified in the outcome of the upcoming general election.
• Pray that God's people will demonstrate a spirit of repentance and prayer–individually and corporately. (2 Chron. 7:14)
• Pray that God will raise up righteous leaders who will model integrity and authenticity. (Eph. 4:1-2; Prov. 14:34)
• Pray that Americans will see their spiritual poverty; that our nation's citizens will awaken to their great spiritual need. (Joel 3:12)
• Pray that godly men and women will be placed in positions of authority so that God's people can rejoice. (Prov. 29:2)
• Pray that leaders we elect will be just, fear God rather than men, and depart from evil. (2 Sam. 23:3; Prov. 1:7; 14:26; 16:6)
• Pray that citizens will seek wise leaders who listen to biblical counsel. (Prov. 1:3–5)
• Pray that citizens will vote with wisdom and discretion. (Prov. 3:21b)
Lord, we pray about the hurt, the sorrow, the fear, and the anger we are seeing in people right now. May we find answers in You.
A Prayer for America
Heavenly Father,
I come before You in the Name of Jesus on behalf of the United States of America. I declare upon Jesus this nation was founded and the gates of hell shall not prevail. Your Word declares that "Blessed is the nation whose God is the Lord," therefore the United States of America is BLESSED!
I acknowledge that the United States has sinned and turned from You, Heavenly Father. Your Word says that where sin abounds, grace does much more abound. I speak "Grace, Grace" to the mountain of sin in our land it and becomes a leveled plain. You said in Your Word that if Your people would turn from their wicked ways and pray, that You would heal the land. So Lord I join others throughout our country and the world and repent for the sins of this nation. Thank You for healing our land.
Now I pray for a shield of divine protection over this country and over all Americans everywhere. I ask for divine discernment for the uncovering of all terrorist activities directed at the United States. I rebuke the spirit of fear and terror. Its assignment is broken off this country.
I pray for all government officials – national, state and local. I call forth men and women into service to our government who have revelation of Your love for them, and who will govern according to Your Word. I pray for believers in the United States of America to vote based on Your Word and not according to the political/economic conditions that exist. I pray for our President, Congress and the Supreme Court. I ask you to direct their hearts and minds to make righteous decisions. I also ask You to remove from positions of authority all those who stand against righteous rule and replace them with men and women who will follow You.
I pray for all of those in the military, wherever they are. I plead the Blood of Jesus over each one, and, for those in harm's way I declare that the ministering angels surround them to keep them in all their ways. I pray for all military commanders that they hear from heaven and do whatever they hear You say to do.
I pray for all "first responders" in our country – police, EMTs and firemen – for their protection and safety as they serve our citizenry. I declare ministering angels are released round about them to keep them in all their ways.
I pray for ministering angels to be released to protect our country's borders, its electric grid, transportation system, water system and food supply.
In these final hours of the last days, I ask for the a release of the gifts and demonstrations of the Holy Spirit – the working of miracles, signs and wonders – to be in strong operation in our land.
I declare that the Unites States will continue to be a major exporter of the Good News of the Gospel throughout the world. Thank you, Lord, that Your Glory is revealed in the United States and through the United States to other nations.
Your Word says "declare a thing and it shall be established." I declare that the future of the United States of America is even greater than her past. God Bless America!!!
---
Scripture References:
Matthew 16:18, Psalm 33:12, Romans 5:20, Zech. 4:7, II Chronicles 7:14, Psalm 91, Romans 13:1-4, Psalm 103:20, 21, Joel: 2:28-31, Romans 10:15, Job 22:28