Библията Тв
|
PentecostalTheology.com
How are the terms Pentecostal, Charismatic and Hyper-Charismatic used to describe different religious movements?
The typical use of Pentecostal on this site is in reference to the historical groups that began in the early 1900s which emphasized speaking in tongues as the evidence of the "baptism of the Holy Ghost."
The typical use of Charismatic on this site is in reference to groups which arose from 1960 and on (or earlier groups, such as the Assemblies of God, which shifted their emphasis around that time) which believe they have manifestations among them of the more "supernatural" of the "spiritual gifts" described in the Bible. The word Charismatic will be capitalized when used in this way to distinguish it from the general use of the term to just mean a "gifted person" outside a religious setting.
The term Hyper-Charismatic is used on this site to designate those Charismatic teachers and groups in recent decades which attribute extremely unusual, non-biblical manifestations in their meetings to the action of the Holy Spirit. This would include individuals being "glued to the floor" for a period by a supernatural force for no apparent reason, people uncontrollably making animal sounds such as crowing like a rooster or barking like a dog in the midst of a worship service, and other such phenomena. Hyper-Charismatic is also used to designate those teachings which make vaunted claims that the average Christian can control with absolute certainty his circumstances, including his health and physical prosperity, through the power that he can obtain by mastering certain "keys" allegedly found in the
Bible.
A few recent articles in light of the upcoming Pentecostal Sunday celebration: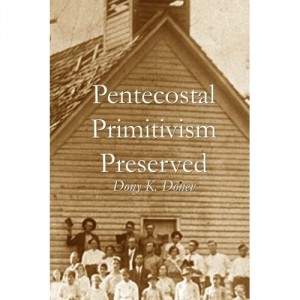 Peter A Vandever [11/28/2015 3:49 PM]
Sounds like we are moving from glory to glory…so level up 🙂
John Kissinger [11/28/2015 3:49 PM]
hens the title of my new book The title for my new book has been approved: "Dominionism, demonianism and denominationism" Clearly, the title was modeled after "The Devil, Disease, and Deliverance" Rick Wadholm Jr
Peter A Vandever [11/28/2015 3:53 PM]
Honestly, I find me in all three of your groups 🙂 I am Pentecostal, Charsmatic and Third Wave. 🙂
John Kissinger [11/28/2015 3:55 PM]
Dominion and demonian is understood but I did not have you in the denomination group as well. May have to model my book around your full rounded experience Rick Wadholm Jr
John Ruffle [11/29/2015 12:10 AM]
Then there are the penticistalists. These, at least academically, covers it all – those who believe in experiential manifestations aka the gifts of the Holy Spirit. Except that there has ALWAYS been spiritual gifts since the upper room..
Jerrod Buffington [11/29/2015 1:24 AM]
NAR all day
John Kissinger [11/29/2015 3:49 AM]
Jerrod Buffington NAR with iPnone 6s?
Link Hudson [11/29/2015 4:38 AM]
Why would A/G be called 'Charismatic.' Originally, Charismatics were in 'mainline' denominations, but then many of the folks in that movement went into independent churches and fellowships of churches.
I don't think 'hyper-charismatic' is generally used. How about WOF as a label.
I heard something about Maria Woodworth Etter being 'glued' to the floor. She became a part of the Pentecostal movement after it started. That was way back before the Charismatic movement.
A lot of the WOF teachings had roots in the Pentecostal movement. Kenneth Hagin was a Baptist and then pastored A/G for a while.
John Kissinger [11/29/2015 4:46 AM]
Did you mean the community church in Roland, Texas when you said baptist?